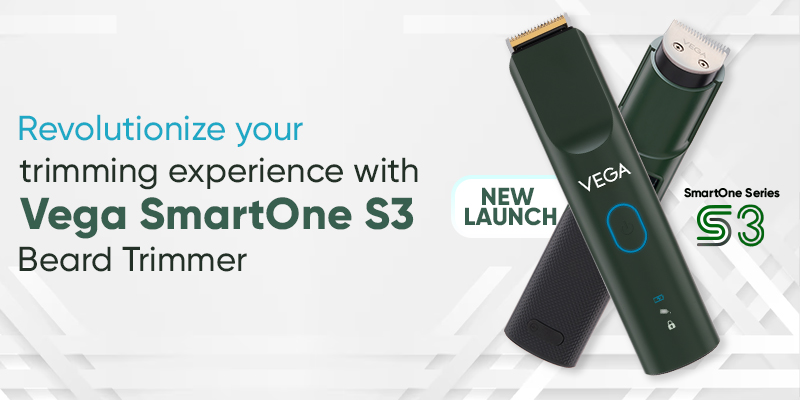 It's a great news for every beard lovers and grooming experts!The advanced mode of beard trimming and maintenance is here, and it's nothing short of a pleasant surprise for all men out there. Vega is excited to bring to you another striking addition to our bread-trimmer category, – the Vega SmartOne S3 Beard Trimmer.
The days of trimming beard with just a pair of scissors or a razor are long gone now. The art of grooming is evolving along with technology. This innovative beard trimmer revolutionizes your grooming routine by fusing innovation, accuracy, and convenience. The striking green aesthetic gives the beard trimmer a unique charm.
Pleasing Aesthetics
The ergonomic design and amazing green color of the beard trimmer are the first things that draw attention. Its lightweight design and a rubberized grip fits nicely in the hand whichguarantees perfect control throughout each grooming session. The design along with the color gives a touch of modernity while the smooth matte surface that oozes sumptuousness.
High Functionality
The beard trimmer comes with 3 Speed Modes that lets youeasily toggle between the 3 unique speed modes- Eco (Light Blue), Pro (Green) and Max (Dark Blue) to achieve your desired beard style.
Smart Memory Function
The SmartOne series beard trimmers are India's first beard trimmers with smart memory function. This function memorizes your last used speed setting. The unique feature allows aconsistent and smart way of trimming without hassle. To set and remember your desired speed mode, switch off the trimmer 5 seconds after speed selection. It's that simple!
Diverse Trimming Experience
This cutting-edge beard trimmer's several adjustable settings let you quickly and easily achieve the ideal beard style. It has skin-friendly titanium blade along with 2 Comb Attachments (0.5 mm to 10 mm and 10.5 mm to 20 mm) that provides the leverage of 40 Length Settings (0.5mm – 20mm), so you get the freedom to experiment with various beard lengths, whether it's a neat stubble or a long, luscious beard.
Long Lasting Battery
The power-packed beard trimmer comes with a runtime of 160 minutes on a single charge of 90 minutes, enough for several grooming sessions, and Quick Charge feature offers 10 minutes runtime after a quick 5 minutes charge, making it ideal for use during a rush, guaranteeing you're always prepared for the ideal trim, even when you're in a hurry.
Waterproof
It's crucial to keep your grooming equipment clean for both hygiene and longevity. This new beard trimmer takes this into account, has a detachable head and is IPX 7 waterproof which istotally fine to wash under running water. This function makes it possible to trim your bread even while showering. To guarantee that your beard trimmer stays in excellent shape, the package also includes a cleaning brush and oil.
Travel Friendly Grooming Pal
Investing in a durable beard trimmer is vital, and this technologically advanced beard trimmer is built to withstand the test of time. It comes with travel lock, cord, and cordless use with the facility of micro USB charging. Moreover, it is even inbuilt with low-noise feature. Therefore, you can now actually trim on the go. Crafted from high-quality materials and engineered with precision, it's designed to deliver consistent performance.
So, the new Vega SmartOne S3 Beard Trimmer promises to be your ultimate grooming partner, regardless of your level of beard growth or experience with grooming. With this innovative beard trimmer, embrace the future of grooming and advance your beard styling. Experience the cutting-edge technology that makes this beard trimmer stand out in the grooming revolution. Improve your personal hygiene practices to get the precisely shaped beard you've always wanted.