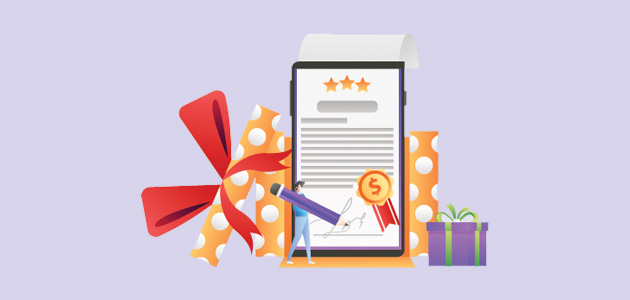 Before we go any further, let's define sweepstakes.
A sweepstakes offer is a marketing and sales campaign in which registered users can win a reward without making a transaction. Sweepstakes winners are chosen at random, so once their applications are submitted, all users have the same chances of winning.
Users must give contact information such as their complete name, email address, phone number, and other data in order to join. Users may be required to validate their emails and do extra steps, depending on the sweepstakes campaign, which we'll go over momentarily.
Types of sweepstakes
Depending on the form of entry, there are two sorts of sweepstakes. You can join the sweepstakes either by mail or by registering your name online. On that premise, the various forms of sweepstakes are as follows:
1. Offline
2. Online
Companies hold offline contests at specified places, most usually in their commercial sales points. This is done in order to raise brand recognition and sales. Online sweepstakes are available on certain websites. The websites include all of the announcements, rules, and awards.
Are there any guidelines that must be followed in order for a contest to be successful?
Yes. Sweepstakes are governed by a series of rules, each of which plays an important role in the whole process.
The following are some of the regulations that sweepstakes sponsors must follow:
1. The rules must include a no-purchase essential condition.
2. The sweepstakes must have a start and end date.
3. The eligibility conditions must be stated explicitly.
4. There must be clear instructions on how to enter the sweepstakes.
5. There must be limits on the number of entries permitted.
6. The odds of winning must be specified in the sweepstakes.
7. The monetary worth of the rewards must be kept clear and transparent to the entrants.
8. The procedure of determining the winner must be clearly defined.
9. If there are any rules for winning, they must be specified.
10. The sweepstakes must include information about the sponsor, such as their name and address.
How are winners chosen in sweepstakes?
A random choice or drawing is used to choose the winner of a sweepstakes.
The following is the procedure for selecting winners in offline sweepstakes:
Choosing winners via mailbag
Picking a random letter from the mail bag is one of the easiest ways to select a winner for a mail-in sweepstakes. The individual whose envelope is chosen is the winner.
Choosing winners via container box
The sponsoring corporation allows one of its workers to get into the box and select one letter at random. The winner is determined by the name discovered in the chosen envelope.
When you enter the sweepstakes online, the winners can be picked in a different way. The following is the procedure for selecting winners in online sweepstakes:
If you apply online, the entire procedure is done electronically.
The process is made by machine, and the results are decided in a couple of seconds.
Are sweepstakes and contests the same thing?
When it comes to terminology, it's quite normal to mix up a contest with a sweepstakes. However, the two could not be more unlike in terms of structure and legal requirements. In fact, even something as easy as identifying a set of sweepstakes rules as a "contest" might cause problems. So, what's the difference?
Sweepstakes are often known as "lotteries" or "giveaways." Typically, entering a sweepstakes is as simple as following a company on social media, introducing friends, or filling out an entry form. The winners are picked entirely at random, either by a drawing or another neutral selection process. When running a sweepstakes, you cannot demand contestants to pay anything or exert substantial effort without a prize.
Sweepstakes are not the same as contests.. The winners of sweepstakes are chosen at random. Judges determine contest winners based on particular criteria. Contests, unlike sweepstakes, are not drawn at random — they are skill-based games.
Entrants are usually asked to put up effort or expertise in order to win. This may involve uploading a photo or video, writing an article, or creating a piece of art. Submissions are frequently utilized for crowd-sourced advertising. To be compliant with gambling regulations, you must guarantee that submissions are assessed based on pre criteria and that any voting components are simply part of a wider process of selection. There are no random elements permitted.
Conclusion
Sweepstakes and contests are held by sponsors because prize promotions help them generate more money. Companies will cease giving sweepstakes as soon as they stop to be beneficial. That is why it is necessary to be a polite sweeper in order to encourage businesses to continue holding prize giveaways.
On the other hand, sweepers have rights. Participating in competitions does not need you to be blasted with spam or make a purchase.