There's no doubt that your bedroom should be a sanctuary, a place of calm and rejuvenation. Creating the perfect bedroom environment is not only required for a good night's sleep but also for your well-being. However, many people find that they don't know what to do or where to start. Fortunately, there are plenty of resources available to offer advice and inspiration. In this article, we will walk you through the main steps to transform your bedroom into a harmonious space that completely reflects your style and personality.
Choosing the Right Color Palette and Theme
Whether you opt for a minimalist, modern design or a more traditional, classic look, you need to stick to a specific style to create a cohesive aesthetic. Implementing touches of your theme in the room's decor – from your choice of furniture to decorative elements such as pillow throws – will bring the space together and make it truly feel like your own. Throw pillows can be used to accentuate existing decor or connect disparate elements of your room. Whether you prefer bright colors or more neutral designs, there is a pillow throw out there that will suit your taste.
Don't forget to consider the impact of lighting on your color choices and theme. Natural light during the day can have a considerable influence on the perception of color in your room and it provides health benefits, so try to utilize natural light in the design of your space. The type of artificial lighting you select can also enhance certain colors and create a particular atmosphere at night. Experiment with different light sources and bulb temperatures to achieve the desired effect.
Selecting the Ideal Furniture and Layout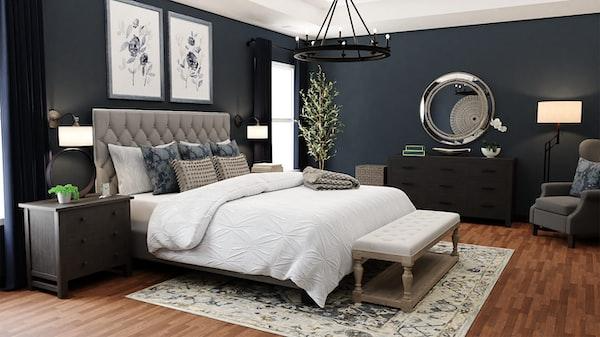 Achieving the perfect bedroom environment requires not only a pleasing aesthetic but also functional furniture and a practical layout. Invest in a comfortable, high-quality mattress, and bed frame that suits your needs and personal preferences. Your bed is the focal point of the room, so choose a design that complements your chosen theme and color palette. When selecting additional furniture for your bedroom, prioritize pieces that provide ample storage and serve a specific purpose.
For example, opt for a stylish dresser, a functional bedside table, and a comfortable seating area that fits the proportions of your space. Keep in mind that less is often more, so avoid overcrowding the room with unnecessary items. You should also carefully arrange your furniture to ensure an effortless flow and easy movement around the room. Properly positioning your furniture can significantly improve the functionality and appeal of your bedroom.
Including Personal Touches and Accessories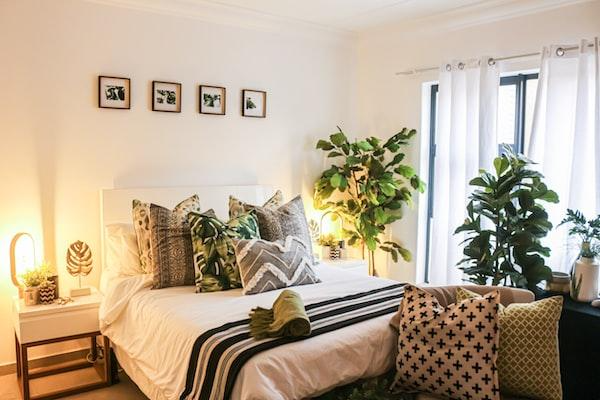 To truly create a bedroom retreat, you need to incorporate personal touches and decorative accessories that reflect your individual taste and character. Hang your favorite artwork, photographs or install wall shelves to showcase your cherished possessions. Consider adding plants for a touch of nature and improved air quality. Additionally, scented candles or essential oil diffusers can further enhance the ambiance and promote relaxation.
Pay attention to practical aspects such as providing ample charging points for your electronic devices and ensuring that any frequently used items are conveniently placed within reach. Remember that your bedroom should evolve with you over time. Avoid being too rigid in your design, and allow yourself the flexibility to update and adapt your space to suit your changing needs and preferences. This will help ensure that your bedroom remains a truly personal sanctuary that you enjoy spending time in.
As you can see, creating the ideal bedroom involves a careful balance of aesthetics, functionality, and personalization. The investment is worth it, as your bedroom will have a major impact on your quality of life at home. By carefully incorporating these essential elements and attentively implementing them into your space, you are well on your way to achieving a bedroom haven that exceeds your expectations. If you follow the tips in this article, then you shouldn't have any trouble designing the bedroom of your dreams.