Telecommunication has become one of the fastest growing sectors. As with other industries and sectors, telecommunication has also embraced artificial intelligence (AI) and is using it in many areas, such as enhancing customer support and ensuring network reliability. According to various reports, the growing use of AI in telecommunications will lead to a market worth $19.17 billion by 2028.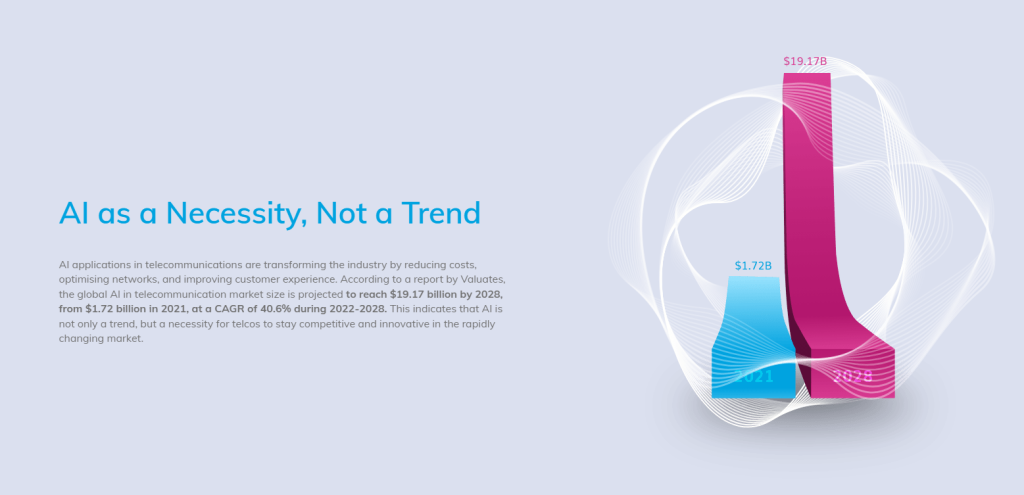 Use of AI in Telecommunications
As mentioned, the primary driver of growth in market share for this sector is the different uses AI has in telecommunications. Players in this sector are using AI for virtual assistants and chatbots that will help them handle a larger number of installations, troubleshoot customer queries, and carry out maintenance. Virtual assistants and chatbots are already being used to resolve back up claims automatically, leading to increased customer satisfaction and lowered costs for the company.
Telecommunications companies are also using algorithms and software as part of their AI stack to evaluate and comprehend large data such as data consumption, application usage and call record data. By doing so, AI is helping them draw insights from the data they collect so that it can be more meaningful and impactful when used correctly.
The ability of telecom companies to use the data they have and collect in ways they could not before is just one way in which they are transforming telecom with AI. Additionally, telecommunication companies are using AI to assist with network security, virtual assistance and network optimisation.
Factors Driving AI Growth in the Global Telecommunications Industry
With the projected growth of global AI in telecommunications, it is important to understand the factors deriving it.

Increased Acceptance of AI Solutions
More telecom businesses are using AI because it enables them to understand and diagnose problems quickly. These businesses spend the majority of their time maintaining a network and locating and diagnosing any issues they encounter or that their customers are experiencing. AI has made this process much easier.
Additionally, telecom businesses are using the Internet of Things much more than they were a few years ago. As a result, there is more maintenance required and more data to analyse. These businesses are turning to AI for both functions, driving the need for AI solutions across the industry. In turn, the global AI use and demand in telecommunications is growing, leading to the expansion of that segment.
Network Optimisations
In addition to fixing issues after they occur, some telecommunication companies are also looking to fix problems before they occur. One way they are doing this is using sensors that identify potential problems so that they can take proactive steps to avoid them and thus prevent network outages.
The best example of this is in network optimisation. Telecom companies can use AI to predict network congestion that can cause issues for some of their customers. Once they do, they can reroute traffic as needed to avoid them.
When used in this way, AI uses advanced algorithms to identify patterns in historical data and alerts the company of any anomalies so it can plan for them. Because companies want to ensure as little disruption to their customers as possible, there is an increasing demand for AI to be used for network optimisation and management, leading to growth.
Growing 5G Uptake
Innovations such as 5G have put additional strain on telecom networks, with many telecom companies fighting to either get 5G network infrastructure in place or deal with the increasing data demand. AI is perfect for dealing with potential issues that come up automatically and effectively. Additionally, the increasing number of 5G base stations will present numerous opportunities for expanding the use of AI in the telecommunications market and elsewhere.
Fraud Prevention
Fraud, such as fake profiles and unauthorised network access, remain a significant threat to telecommunications. Telecommunication companies are harnessing the power of AI and its powerful algorithms to thwart the efforts of bad actors, including those within their networks and those using it.
By detecting and automatically blocking the activities of these actors, telecommunication companies can minimise or eliminate the threats they pose or the damage they can do. AI is especially timely when you consider 90% of telecommunication companies worldwide are targeted by malicious actors, leading to billions of dollars in losses.
Process Automation for Telecoms
Another factor causing the growth of AI in telecommunications is automation. Automation increases efficiency by allowing telecommunication companies to manage their in-office operations and repetitive or rules-based tasks better.
By doing this, AI frees telecommunication workers to handle more value-added work since they do not have to do the complex, time-consuming and labour-intensive processes they otherwise would have had to without help from AI.
As more telecommunication companies realise the benefits of AI and the different ways to leverage it in their processes, we can expect to keep seeing the use of AI and the AI market value in telecommunications increasing. The result will be better services provided to customers, increased customer satisfaction, and reduced costs in various areas for these companies.