If you are in Dubai then it's time to pack your bags and head to ultimate desert safari. Brace yourself for a wild ride as you explore the golden sand dunes, witness breathtaking sunsets, and immerse yourself in Bedouin culture. So, get ready to escape the hustle and bustle of the city and embark on the ultimate desert safari adventure in Dubai.
Bedouin culture: A glimpse into the past
The Bedouin people have a long and fascinating history in the deserts of the Middle East. While on your desert safari UAE adventure, you can gain insight into the local culture and traditions. You'll visit a Bedouin camp, where you can try on traditional clothing, watch a falconry show, and enjoy a cup of Arabic coffee. You'll also learn about their food, music, and dance, and how they survived in the harsh desert environment.
Dune bashing: The ultimate adrenaline rush
Experience an adrenaline-fueled ride as you cruise over the sand dunes of Dubai in a 4×4 vehicle. With an experienced driver at the wheel, you'll take on the steep inclines and sharp turns of the dunes, feeling the rush of the wind in your hair and the thrill of the adventure. As you ride, you'll have breathtaking views of the desert landscape, with the sun casting golden light on the shifting sand. This is an experience not to be missed for anyone who loves speed, excitement, and stunning scenery.
Sandboarding: Glide down the dunes in style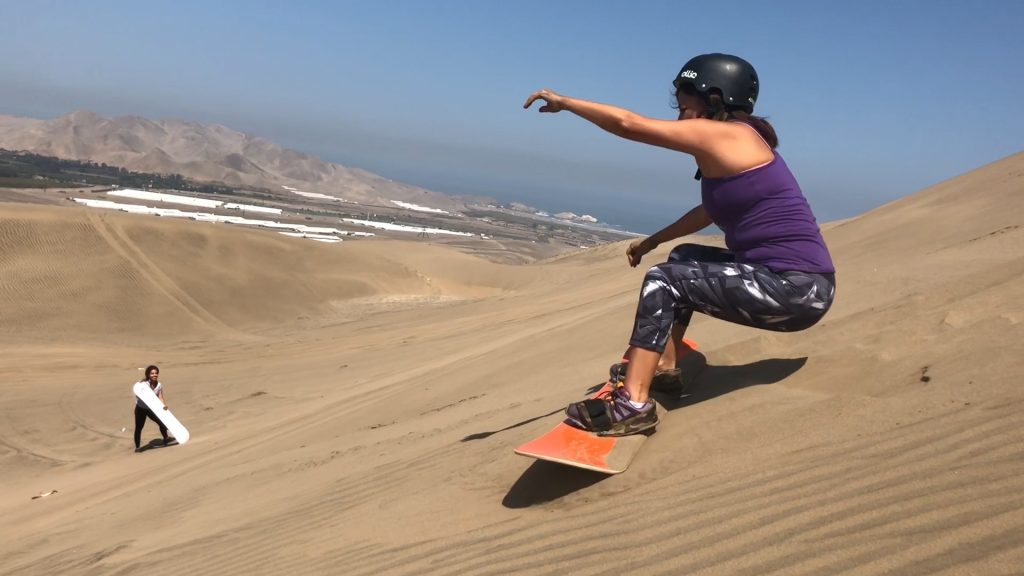 For those who prefer a slower pace, sandboarding is the perfect activity. Similar to snowboarding, sandboarding involves strapping on a board and sliding down the dunes. You can choose to go solo or with a group, and you can ride down the dunes standing up or lying down. It's an exhilarating feeling as you pick up speed and glide across the sand, with the desert breeze in your face. Even if you've never tried sandboarding before, it's easy to pick up and a lot of fun.
Wildlife spotting: From falcons to Arabian Oryx
The desert may seem barren at first glance, but it's actually home to a surprising amount of wildlife. As you explore the dunes, keep an eye out for falcons soaring overhead or Arabian oryx grazing in the distance. You may also spot desert foxes, sand gazelles, or even the elusive sand cat. With so many unique and fascinating animals to see, you'll feel like a true adventurer on your desert safari.
Camel riding: A classic desert experience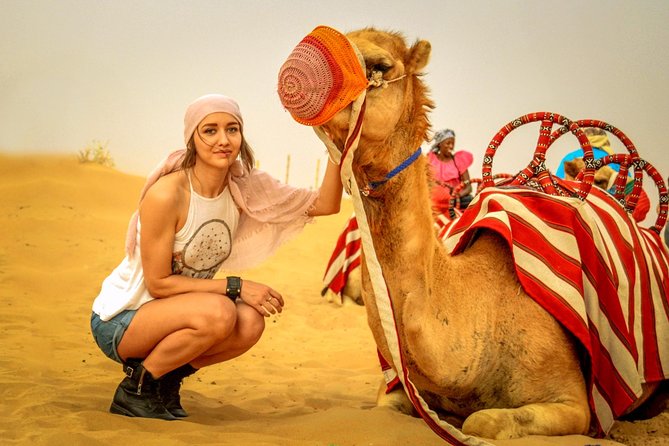 For centuries, camels have been a primary mode of transportation in the desert, and riding one is a timeless desert tradition. You'll climb aboard a gentle camel and sway back and forth as it takes you on a peaceful journey through the dunes. It's a great way to relax and take in the scenery, as you feel the gentle sway of the camel's gait. Plus, you'll get some amazing photos to share with your friends and family.
Sunset over the dunes: A photographer's dream
The desert is known for its stunning sunsets, and there's no better place to witness one than from the top of a sand dune. As the sun dips below the horizon, the sky turns a brilliant shade of orange, pink, and purple, casting a warm glow over the sand. It's a magical moment that will take your breath away, and it's the perfect time to snap some incredible photos.
Arabian cuisine: From grilled meat to sweet treats
No desert safari adventure would be complete without trying some delicious Arabian cuisine. You'll have the chance to sample a variety of dishes, from grilled meat to fresh salads to sweet treats. Try shawarma, a popular Middle Eastern street food, or taste the savory flavors of Arabic rice and lamb. You can also enjoy traditional desserts like baklava, which are sweet and indulgent.
Stargazing: A mesmerizing night sky
The desert is one of the best places in the world for stargazing, with clear skies and minimal light pollution. On your desert safari adventure, you'll have the opportunity to marvel at the night sky and see constellations you may have never seen before. You can lay back on the soft sand and watch shooting stars streak across the sky, or use a telescope to get a closer look at the planets and galaxies above. It's a peaceful and awe-inspiring experience that will leave you feeling small in the vastness of the universe.
Traditional entertainment: Belly dancing and more
After a long day of adventure, it's time to relax and enjoy some traditional entertainment. At the Bedouin camp, you'll be treated to a belly dancing show, with graceful dancers moving to the beat of Arabic music. You'll also see traditional Tanoura dancers, who spin around in colorful skirts, creating a mesmerizing display. These performances give you a glimpse into the vibrant and beautiful culture of the Middle East.
Read more about desert safari
Conservation efforts: Protecting the delicate desert ecosystem
As you explore the desert, you'll learn about the delicate ecosystem and the conservation efforts in place to protect it. From planting native plants to reducing the impact of tourism on the environment, there are many initiatives underway to preserve the desert for generations to come. By taking part in a responsible and sustainable desert safari, you can be a part of these efforts and help to protect this beautiful and unique ecosystem.