Hankotrade, a global online broker specializing in Forex, CFD, and cryptocurrency trading, grants traders access to a diverse range of financial instruments, including currency pairs, commodities, indices, and cryptocurrencies. Founded in 2018, this broker has rapidly established itself as a reputable platform by offering competitive trading conditions, a user-friendly interface, and exceptional customer support.
In this comprehensive review, we will delve into the various features and services provided by Hankotrade Broker.
What Are the Different Account Types Offered by Hankotrade?
Hankotrade offers three distinct trading accounts: STP, ECN, and ECN Plus. Each account type caters to different trading preferences and requirements. Let's explore the features and benefits of each account.
STP Account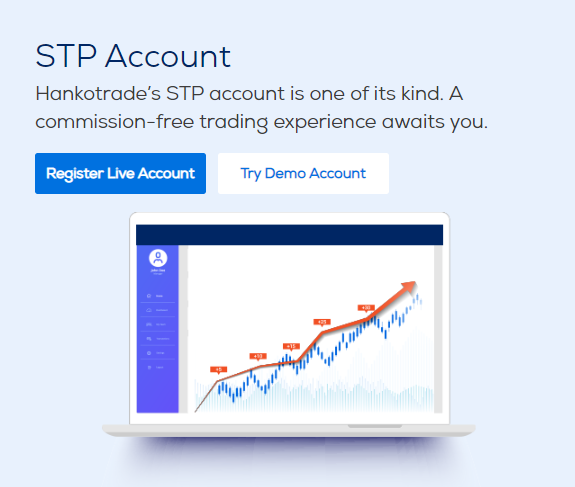 The STP account is the primary account type offered by Hankotrade. It can be opened with a small deposit of $10. With this account, traders can enjoy competitive spreads starting from 0.7 pips. The STP account is an affordable option for traders who prefer zero-commission trading.
ECN Account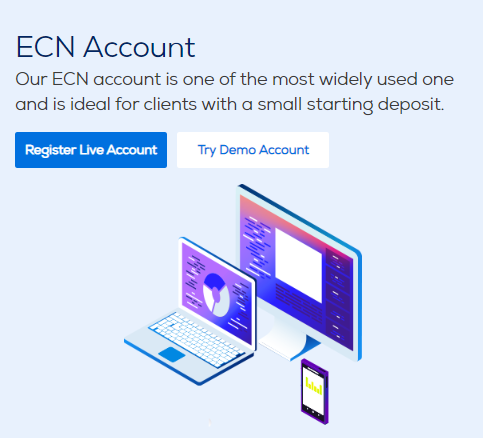 The ECN account with a minimum deposit of $100 provides traders access to tighter spreads, starting from 0.0 pips. Hankotrade charges a commission of $2 per side per $100K traded on this account. The ECN account is well-suited for traders seeking direct market access and cost-effective trading conditions.
ECN Plus Account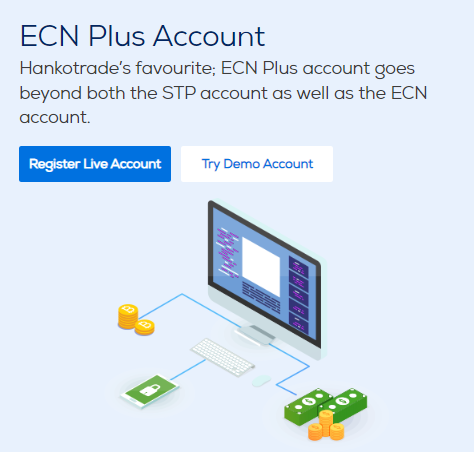 The ECN Plus account is a zero-spread account that requires a deposit of $1,000. It features a commission of $1 per side per $100K traded. Hankotrade is known as one of the lowest-commission Forex brokers in the market, and the ECN Plus account is a testament to that. This account suits traders who value tight spreads and are willing to maintain a higher account balance.
Can Muslim Traders Trade with Hankotrade? How Does Hankotrade Accommodate Their Needs?
Hankotrade embraces diversity and strives to accommodate traders of all backgrounds. Muslim traders can take advantage of Hankotrade's swap-free Islamic account, which ensures they can participate in trading without incurring overnight interest charges.
This account adheres to Sharia principles and allows Muslim traders to engage in activities following their cultural and religious values.
What Leverage Options Does Hankotrade Offer? How Does It Impact Trading?
Hankotrade offers maximum leverage of 1:500 on all its trading accounts. The leverage allows traders to amplify their trading positions, enabling them to trade larger volumes with less capital. However, it's crucial to understand that leverage magnifies profits and losses. Traders should educate themselves on proper leverage usage to effectively navigate the volatile trading environment.
Is Hankotrade Regulated in The United States?
Hankotrade is a reputable broker registered with Seychelles' Financial Services Authority (FSA). While it is not regulated in the United States, it operates under the strict supervision of the FSA. Traders can have confidence in Hankotrade's commitment to compliance and adherence to regulatory standards, ensuring the safety of their funds and transparent trading activities.
How Does Hankotrade Ensure Safety and Security for Traders?
As a registered member of Seychelles' FSA, Hankotrade adheres to rigorous regulatory standards. The broker undergoes regular audits and inspections to ensure fair and ethical operations and compliance with financial and operational requirements.
Hankotrade implements robust security measures, including advanced encryption technology, to protect clients' funds and personal information. Strict anti-money laundering (AML) and know-your-customer (KYC) procedures are in place to prevent fraudulent activities.
How Does Hankotrade Accept Deposits?
Currently, Hankotrade offers the convenience and security of depositing funds using cryptocurrencies. This option provides traders a streamlined and reliable method to fund their trading accounts.
What Trading Tools Does Hankotrade Offer to Enhance the Trading Experience?
Hankotrade provides valuable trading tools to empower traders and improve their overall trading experience. Let's explore some of these tools:
Forex Calculator
Hankotrade offers four types of Forex calculators, including Pip, Margin, Swap, and Currency Conversion calculators. These tools assist traders in estimating potential returns, managing risk, and performing currency conversions efficiently.
Virtual Private Server (VPS)
Hankotrade offers a Virtual Private Server service, ensuring traders can securely access the platform anywhere. With a VPS, traders can stay connected to the market without constantly needing to remain connected to their devices.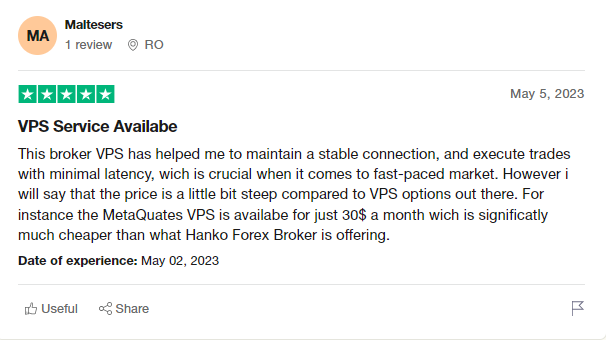 Economic Calendar
Hankotrade provides an economic calendar with timely information on critical events and announcements. This tool helps traders stay informed about upcoming events that may impact the financial markets, enabling them to make well-informed trading decisions.
Hankotrade Customer Testimonials
Customer Testimonials on Trustpilot.com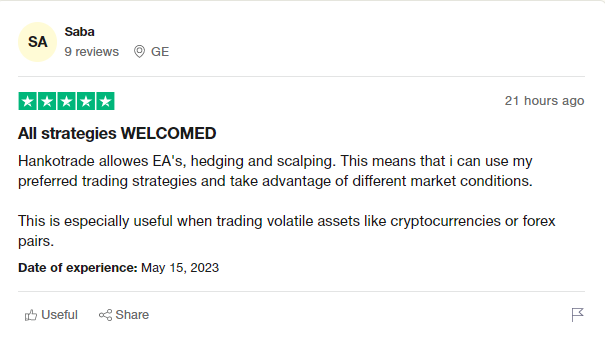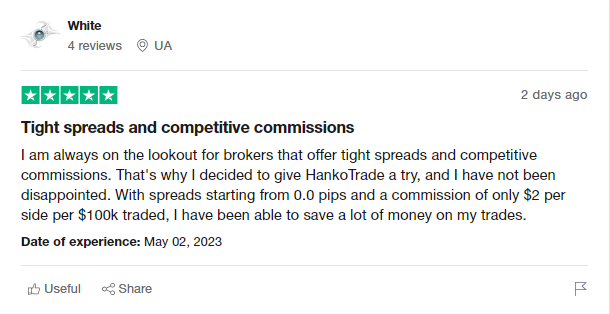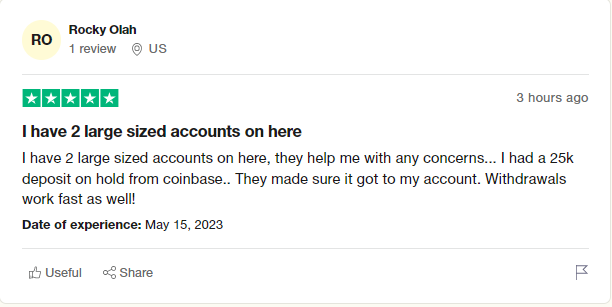 Customer Testimonials on Sitejabber.com



Customer Testimonials on Brokerxplorer.com

Customer Testimonials on Slashdot.org


Customer Testimonials on Fx-List.com


Customer Testimonials on Forbino.com


Evaluating The Pros and Cons of Trading with Hankotrade
Pros of Trading with Hankotrade
Low Commissions
Hankotrade offers low commissions on trades, allowing traders to maximize their profits.
Tight Spreads

The platform provides tight spreads and narrower price differences between buying and selling assets. This makes trading more cost-effective for traders.
Fast Customer Service
Hankotrade prioritizes fast and efficient customer service, ensuring traders can quickly resolve any issues or queries.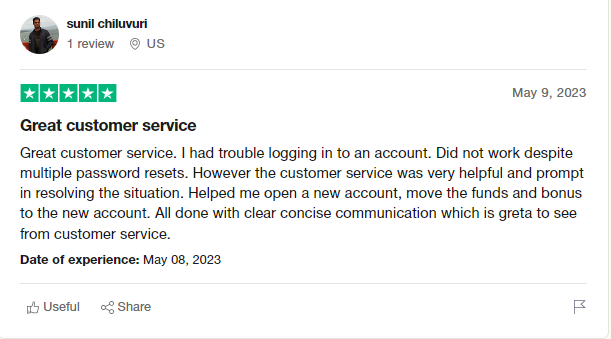 Low Deposit Requirements
Hankotrade has low deposit requirements, enabling traders to start their trading journey with minimal capital, as low as $10.
Deposit Bonus
Hankotrade offers a 100% deposit bonus to new clients opening a trading account. Traders should review the bonus policy carefully before claiming the bonus.
Introducing Forex Broker Program
Hankotrade has an Introducing Forex Broker program that allows traders to earn commissions by referring new clients. Traders receive a unique referral link to invite friends and family, earning a commission when a new trader signs up via the referral link.
Cons of Trading with Hankotrade
Limited Educational Material
Unlike other brokers, Hankotrade does not provide educational resources such as eBooks, webinars, or market insights on its platform. The limited educational material is a drawback for traders who are eager to enhance their knowledge and improve their trading skills.
Limited Payment Options
Hankotrade only accepts payments through bank transfers. This limitation may inconvenience traders who prefer alternative payment methods, such as credit cards or e-wallets, potentially causing frustration and deterring potential customers.
Hankotrade Review: Why Should Traders Choose This Broker?
Hankotrade is a reputable and reliable broker that offers a comprehensive range of trading instruments and services to cater to traders of all levels. With its commitment to transparency, security, and regulatory compliance, Hankotrade has earned a strong reputation as a trustworthy broker in the financial industry.
Whether you are an experienced trader or just starting, Hankotrade provides a safe and reliable trading platform. Open your account with Hankotrade today and experience the benefits of trading with a reputable broker.