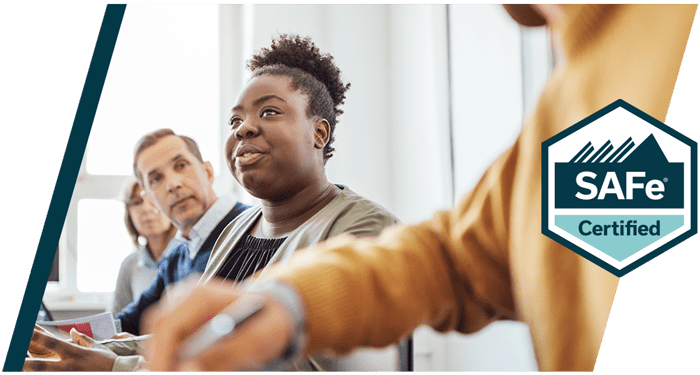 Scaled Agile, Inc. confers a highly regarded certification known by several names: SAFe Agilist, SAFe® 5 Agilist, and SAFe® Agilist. Its goal is to give participants the background they need to use the Scaled Agile Framework (SAFe) to its full potential. Professionals engaged in enterprise-wide agile transformations and those interested in learning more about Agile approaches can benefit greatly from attaining SAFe Agilist certification. Let's have a look at what SAFe Agilist training entails in terms of knowledge and expertise and skills required for SAFe Product Manager certification.
Understanding SAFe Principles and Practices:
Those who earn the SAFe Agilist certification have demonstrated their mastery of the Scaled Agile Framework's baseline concepts and best practices. They get an understanding of the essential beliefs that underpin SAFe, such as the values and Lean-Agile principles that guide it. With this groundwork in place, practitioners may better understand the thinking underlying SAFe's methods.
Agile Transformation Leadership:
SAFe Agilist training places an emphasis on leadership as a key factor in facilitating successful enterprise-wide Agile transitions. Participants acquire the skills necessary to play the role of change agents as they lead their organizations down the path to Agile. They learn to lead in a way that promotes Agile values and practices, encourages a mindset of constant improvement, and produces productive Agile groups.
Creating and Managing Agile Release Trains (ARTs):
SAFe Agilists have the knowledge and skills necessary to design and lead Agile Release Trains (ARTs). ARTs are permanent, self-managing groups that produce incremental value by coordinating the efforts of several Agile teams to achieve organizational goals. Participants gain the ability to organize and coordinate ARTs in a way that promotes consensus, cooperation, and rapid iteration of programs.
Building and Supporting Agile Teams:
Agile's success hinges on a team's ability to work together effectively. Learning what it takes to create and sustain Agile teams that effectively interact and constantly generate value requires certification as a SAFe Agilist. Participants get knowledge on how to make Agile teams more open, trustworthy, and committed to constant development.
Understanding the Program Increment (PI) Planning:
Planning for the next 8-12 week Program Increment (PI) is covered in depth throughout the SAFe Agilist training. within PI planning, Agile teams coordinate their goals, establish their interdependencies, and outline the tasks they will complete within the next Program Increment. Effective facilitation and participation in PI planning meetings are learned by participants.
Implementing Lean-Agile Mindset:
SAFe Agilist training emphasizes the need of adopting a Lean-Agile mindset. Participants gain an understanding of and an ability to apply the Lean concepts of value creation, customer-centricity, and waste minimization. With this frame of mind, people are better able to assess their options, determine priorities, and optimize their methods and outputs.
SAFe's Essential Roles and Responsibilities:
An individual who has earned the SAFe Agilist certification has demonstrated an understanding of the core functions of the SAFe framework, including those of the Product Owner, Scrum Master, Release Train Engineer, and Business Owner. Participants learn how their roles complement one another and how they work together to accomplish corporate goals.
Continuous Delivery Pipeline:
The Continuous supply Pipeline is a topic covered in depth for the SAFe Agilist certification since it is an automated procedure that speeds up the supply of value. Participants get an understanding of how to improve the feedback loop and make more consistent releases by streamlining the process from concept to implementation.
Lean Portfolio Management:
Lean Portfolio Management is discussed, which is a method for coordinating business goals with Agile development. They learn to prioritize, allocate resources, and assess the efficacy of portfolios and value streams.
Conclusion:
To successfully lead and support Agile transformations in large organizations, SAFe Agilist certification is essential. SAFe Agilist certification equips professionals to thrive in complex and dynamic business environments and strategic management by providing them with a thorough understanding of the principles and practices of SAFe, encouraging a Lean-Agile attitude, and facilitating program-level planning. In today's competitive world, qualified SAFe Agilists are indispensable for increasing organizational agility and delivering value to clients.