Video converting is a crucial procedure for enough storage space, output quality as well as great compatibility with your preferred devices and social platforms. Great chances are that you are looking forward to digging out more about the mystery of video conversion when converting your WMV files to the MP4 format.
It won't come as a surprise that there are a lot of details and tips you need to care about during the conversion. With this post, you will feel much less burdened and even more enjoyable with WMV-to-MP4 video conversion and find the perfect video converter for future use.
Get started with us and learn more about converting WMV to MP4!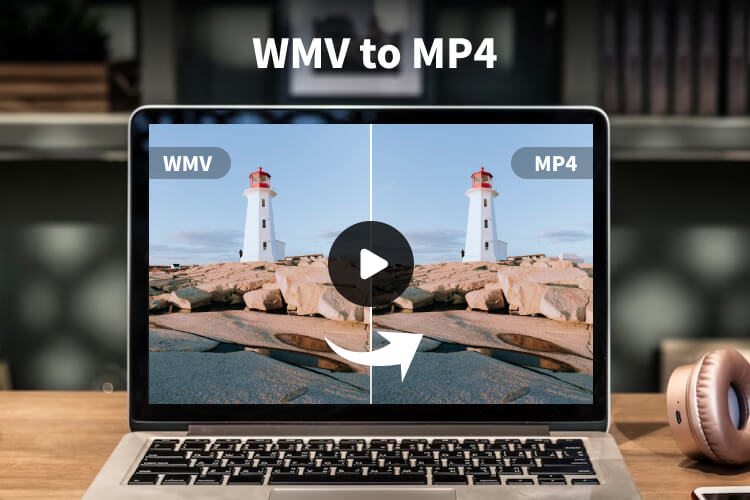 Get Ready with US
1. For Desktop Users:
To convert your WMV files to MP4, you have two channels to take: online and offline.
a. Vidmore Video Converter
Vidmore Video Converter is the most favored option by professional users and video lovers. You can change your video formats from WMV to MP4 within several clicks and enjoy all-in-one service with stylish and technical functions to best meet your needs. Follow the steps to convert your WMV files.
Step 1. Launch Vidmore Video Converter and click Add Files to upload your file.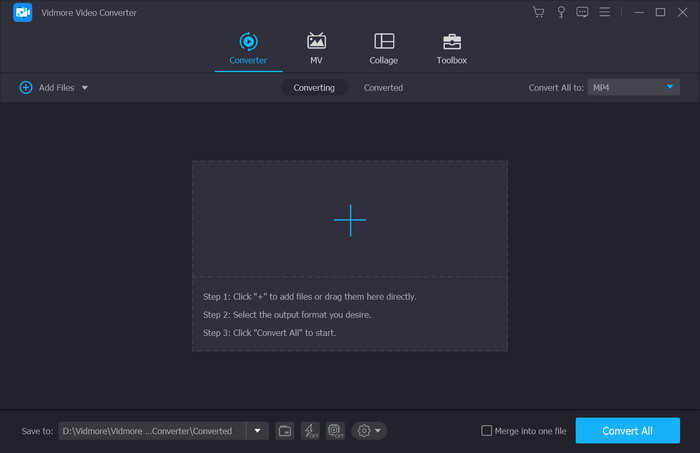 Step 2. In the following window, you can play the WMV file anytime you want. Here it also provides editing functions, including MV, Collage and Toolbox for further use.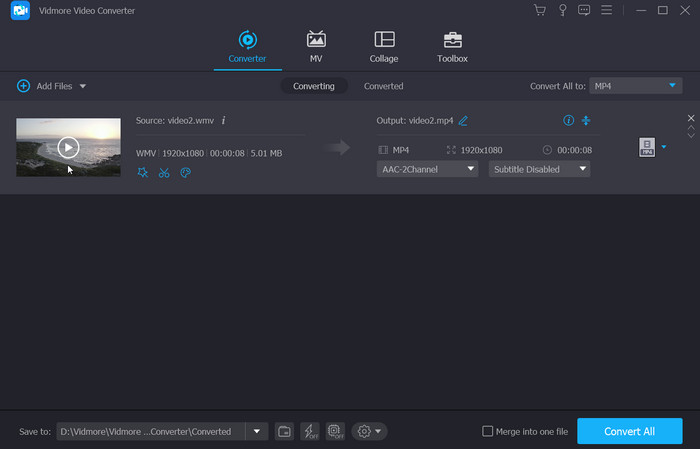 Step 3. Click the Format icon or unfold the Convert All to box. Then you can see all possible formats for the output file. Select the one you want.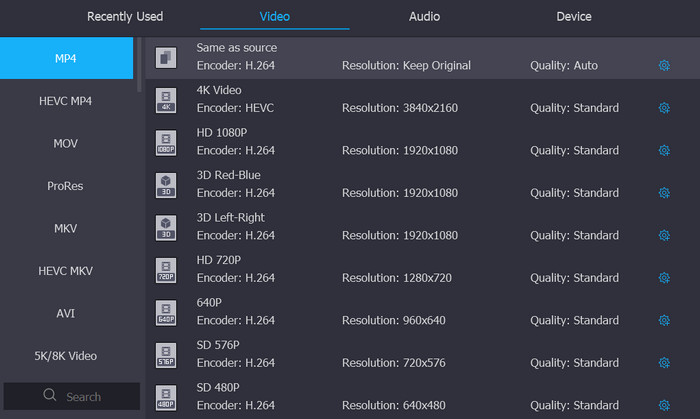 Step 4. With all set, select a path to convert your file. If you have added more than one file, tick the Merge into one file box and then tap on Convert All and generate your works.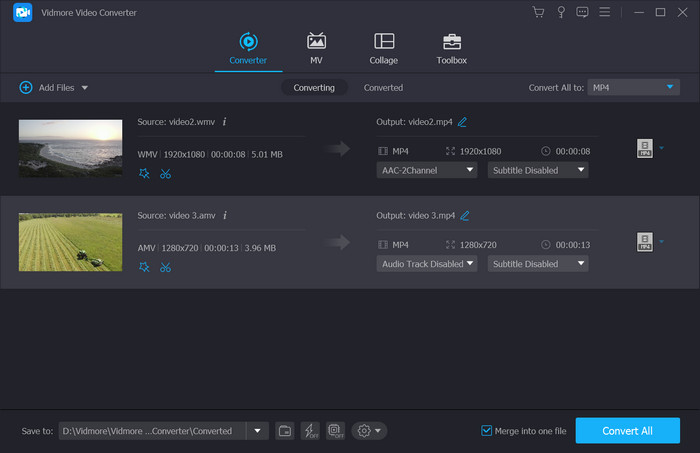 b. Any Video Converter Free
Any Video Converter Free is a reliable software on PC for video conversion without any charge. You can also try this tool for WMV-to-MP4 conversion with the easy steps below.
Step 1. Run this software and input your files by clicking Video Converter or Workflow Tool.
Please insert this image: any-video-converter-free-add-files.jpg
Step 2. Then choose Basic options and select the format and resolution. When satisfied with the setting, tap on the Start button and see what you can get.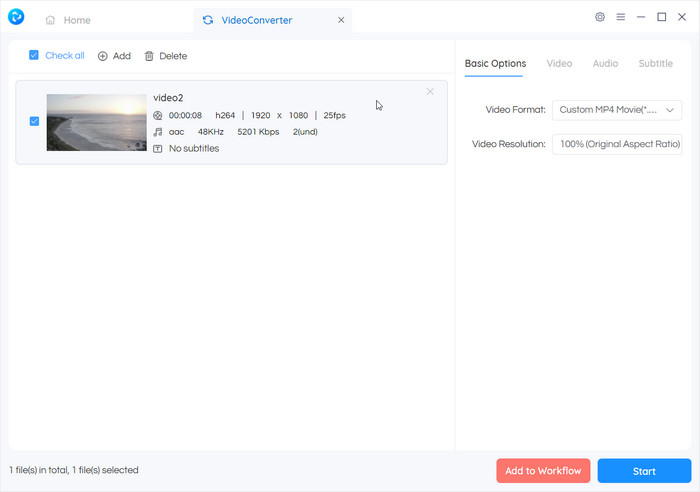 c. Freemake Video Converter
Freemake Video Converter is also worthwhile trying if you want to process the WMV files on your computer. You can enjoy the clear and precise user interface when using it.
Step 1. Select the files you are going to convert before you start the conversion.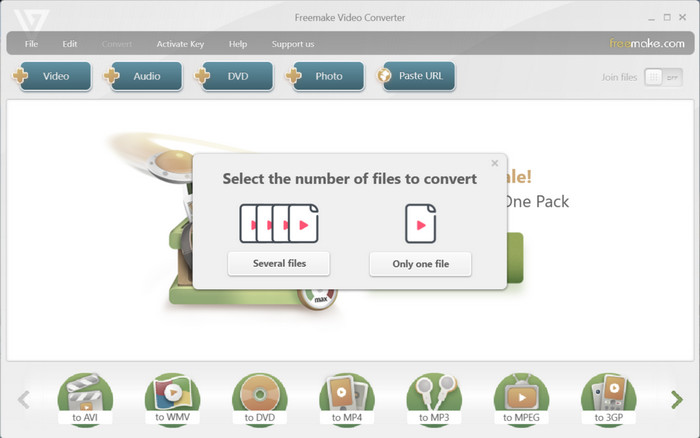 Step 2. Go through the formats at the bottom and choose the one you like.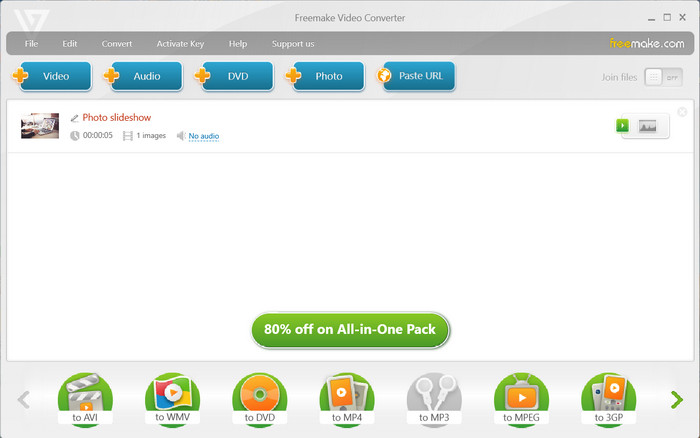 Step 3. Select the destination to save your converted file and enter the Convert to begin the conversion.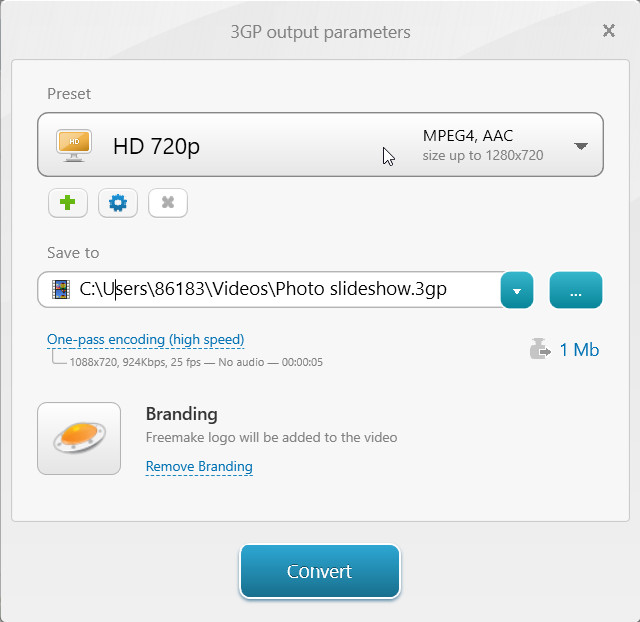 2. For Online Solutions:
a. Vidmore Free Video Converter Online
For those who prefer to convert WMV files with an online platform, you can never miss Vidmore Free Video Converter Online with its quick and safe solutions.
Step 1. Reach Vidmore Free Video Converter Online and get prepared with the launcher. Then click Add button and input your program.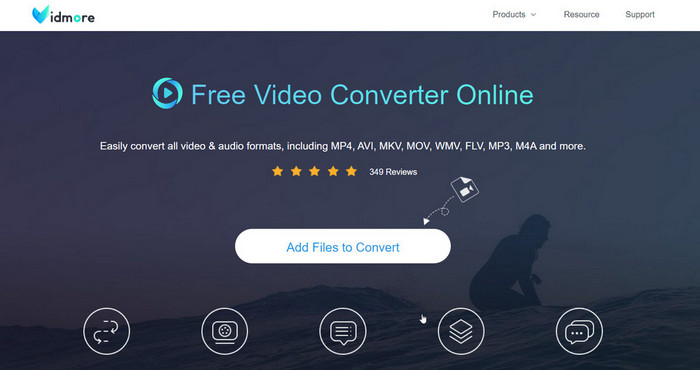 Step 2. Select the targeted file format at the bottom. And you can click the Gear icon to customize the settings on video and audio from encoder, resolution, sample/frame rate and bitrate.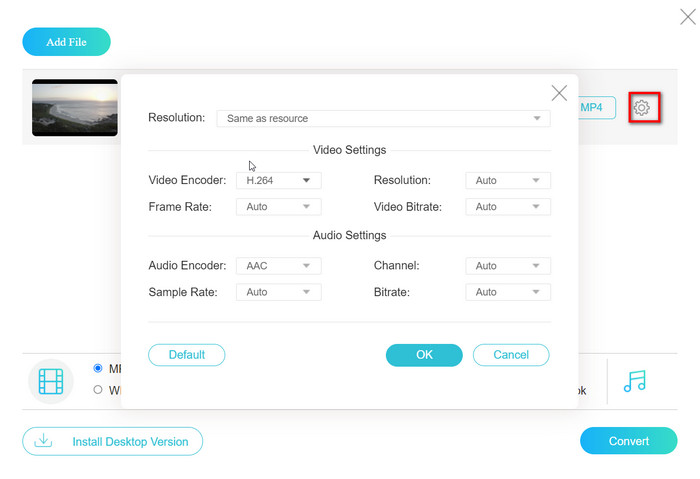 Step 3. After that, click the Convert button and produce your works.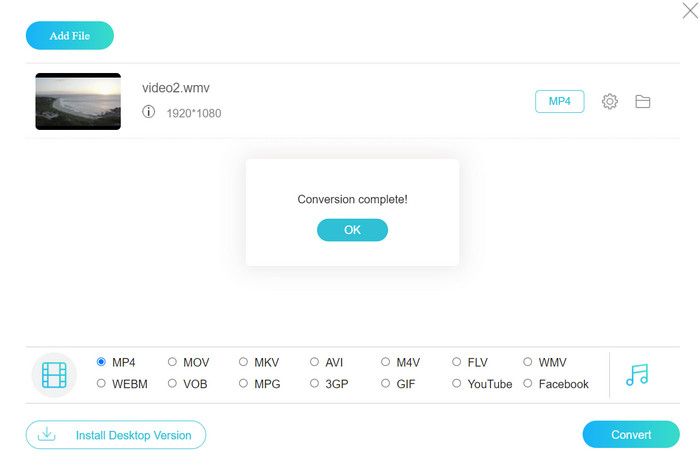 b. Free Converter
You can also resort to Free Converter and get MP4 files from WMV. It's safe to use and easy to follow.
Step 1. Add your files and choose the entrance among URL, device, Google Drive or Dropbox.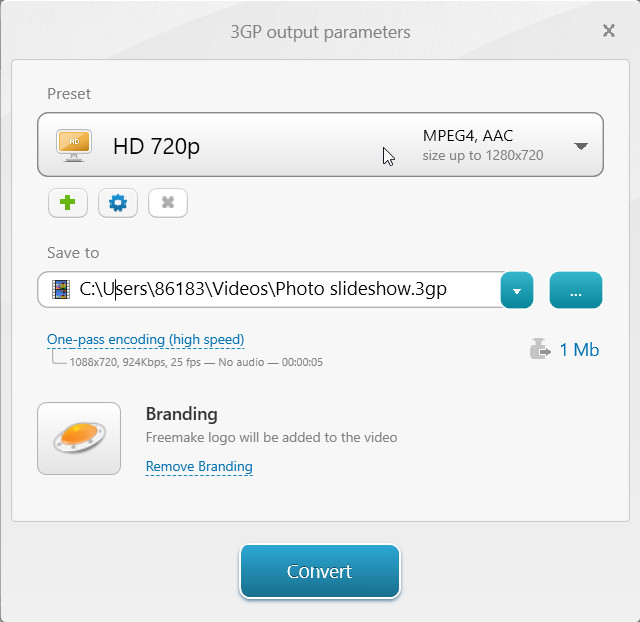 Step 2. Follow the on-screen instructions and get ready.
Step 3. Change the settings on the format, audio and video. Then click the Start button to generate your works.
A Finishing Touch on an Excellent Video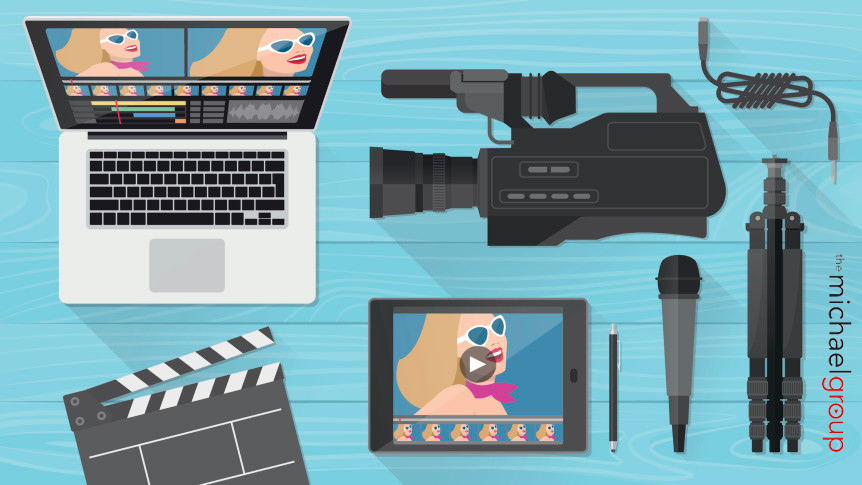 To get a fabulous video from your WMV file, converting is only halfway. Before you complete video processing, you can still add more appealing features to the converted videos. For example, you can merge multiple video clips with the help of a video joiner and enrich the content in a creative way. To inject a special vibe or interesting theme into different scenes, we also encourage you to make movies and use wonderful effects like 3D, GIF, etc. And Vidmore Video Converter will help you enclose the video creation with a finishing touch.
Tips for a Techy/Fresh Hand
1. Why Convert WMV to MP4?
WMV (also known as Windows Media Video) is developed by Microsoft company and designated as a container for the Windows system. Thus, other systems like Mac, Linux are not able to match WMV files for limited support. And not all applications and media players guarantee the good functioning and data management of WMV format due to the small file and reserved digital rights by the developer.
In contrast, as one of the top choices of video files, MP4 is endowed with a lower compression rate with higher quality. Whether you would like to share your video on your favorite platforms like Instagram, YouTube or WhatsApp or just desire an enjoyable viewing experience with good video quality, MP4 would always be your better option.
However, for those who prioritize the completeness of data and information or file size to take into account the storage room or diehards of the Windows system, you can still convert MP4 to WAV to fit in with your requirements.
2. What Else to Do for Good-quality Videos?
For those with advanced needs on seeking a good-quality video like MP4, you can start with recording and attach great importance to compression for quality loss.
When Recording Your Videos
Stay in a full-light environment rather than a dark and dim environment.
Hold your camera steady and try to avoid the shaky footage.
Set your camera or phone with the appropriate mode of video recording.
Leave enough time for transition and buffer of motion objections.
Capture clear sound and skip the excess noise if necessary.
With a file recorded and saved in WMV, you can take the advice below to maintain the original quality as before.
When Processing Your WMV Files
Match a WMV-supported player in case of accidental file breaks and loss.
Choose a reliable video editor or compressor with an HD quality option.
Avoid repeated compression and excess processing for unnecessary trouble.
Change the Output setting and make them match (like MP4/1080p/H.264/23.98fps).
With all elements taken into account, what you need now is an effective tool for converting videos between WMV and MP4. Select the one you like as we introduced before.
With a professional tool and better planned procedure, you are believed to produce a wonderful video through recording, editing and converting. Now practice with your WMV files with this post!